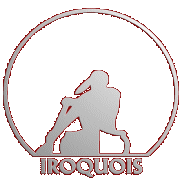 Iroquois Canoe & Outing Club
14 Teeple St.
Waterdown, ON
LOR 2H3
Canada
Telephone Hotline:
905-527-9243
Welcome to the official website of the Iroquois Canoe and Outing Club. For those who are not familiar with the club, we are a Hamilton, Ontario based non-profit volunteer organization dedicated to the enjoyment of outdoor activities year-round. We organize canoe and camping trips that range from leisurely single-day paddles to week-long expeditions in the Ontario wilderness. We also organize hiking weekends, backpacking trips, cross-country skiing, winter camping and many other activities. For additional information please go to the About page. Please note that some of the website links are still under development, so over the next few months look for the Photo Gallery and the resource page for other website links of interest to the outdoors enthusiast.

Spring is finally here, and itís time to start thinking about those upcoming trips, so please peruse our trip page, and start making plans.

---




SPRING MEETING ANNOUNCEMENT:

Friday, May 5th
Spectator Building, 44 Frid Street Hamilton
Doors open at 6:00pm. Meeting starts at 7:00pm

GUEST SPEAKER:

Olympic Canoeist and Bluebird Man-Don Wills will be speaking on his work with the wild birds of Ontario.

Refreshments will be provided and please remember to bring your own mug. Friends and those interested in becoming members are always welcome!

MEMBERS:

If you havenít already done so, please remember to bring your renewal form and membership fees. The membership form is now available on-line in Adobe Acrobat and MS-Word formats.




---

And now the highlight of the summer:

ICOC Paddle & BBQ




Friday, June 2nd at
Princess Point, Hamilton,
6pm Ė Dusk




Get to know our Iroquois Canoe and Eating? Club members, enjoy some delicious food, canoe talk and relax with some leisurely paddling on Cootes Paradise. Please RVSP with Richard and Angela Krummenacher, our gracious organizers, by calling them direct or by e-mail and be sure to give them your veg./non veg. preferences.

Please remember to bring a lawn chair and your canoe.